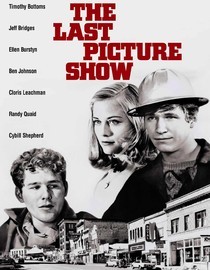 OK people, let me say this one time, very slowly.
Just. Because. People. Fuck. Several. People. Doesn't. Mean. This. Is. A. Poly. Movie.
So I watched another recommended movie from a "poly movie list". It's called "
The Last Picture Show
". Perhaps you've heard of it. I guess it's quite famous for all the nudity. The story takes place in 1952 and stars people like a very young Cybil Shepard, Jeff Bridges and Clores Leachman. It's all about a very small town in Texas. There's the mute "dumb" kid, there's the town slut who happens to be married to the rich oil baron, there's the slut's daughter who seems to be taking after her, there's the football star and his buddy, the lonely housewife, and the pool hall/picture show that is the town's main entertainment. People flirt, people fuck, people fight. It's all about Small Town America In The '50s.
It's not poly.
There's no long-time deep love shared between two high school buddies and the town sweetheart, like in
Leaving Cheyenne
. There's no quirky artist commune like in
Carrington
. There's no triad hidden among the pines like in
Summer People
. It's just horny teenagers and cheatin' wives.
I'm not sayin' this was a bad movie, I'm sayin' don't watch it for any poly content.
There is none. The absolute closest we get is the two best friends who make up after one kicks the shit out of the other for screwin' around with his girl (the make-up happens after that girl goes off to college and leaves both of them). Maybe the husbands who look the other way when their wives have affairs because it's sort of general knowledge that 80% of marriages aren't happy (so says the wise old rancher) are the reason someone thought this was a poly flick?
It's not poly. Don't bother.